Over the last two-years, one-year, 6-months and 3-months Stratasys (SSYS) and 3D Systems (DDD) stocks have yielded substantially negative returns. 3D printing as a story has had its day in the spotlight, but now it's less about story and more about fundamentals, competition, earnings and growth.
Let's examine SSYS and DDD, the two largest pure play 3D printing peers in one image across nine dimensions and see if we can't find a reason to believe in both, one or neither of them.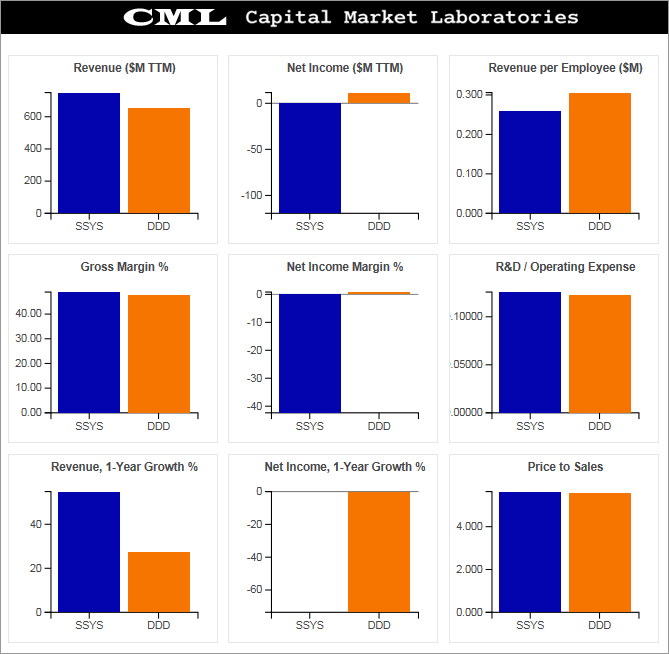 We'll reference these images throughout the article. The top row measures size, the second row measures margins and the bottom row measures growth and growth expectations. Of these nine-dimensions, only a few stand out as definitive differences between these firms.
I note that price to sales, research and development (R&D) per dollar of operating expense, revenue per employee and gross margin % are essentially identical between the two firms. I've re-posted the image above with only the focal points included.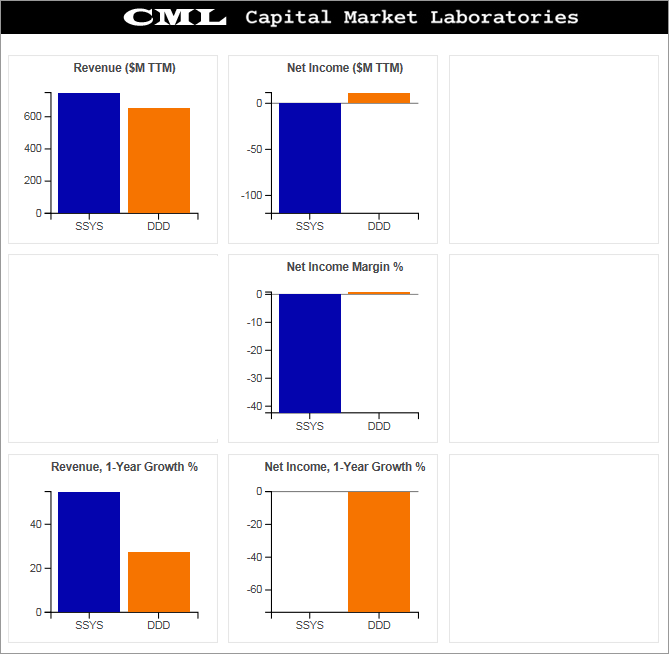 The first image of revenue ($M TTM) and the image below it of revenue, 1-year growth % are not trivial. SSYS generated over $750 million in revenue in the trailing-twelve-months (TTM) while DDD generated $653. Of even greater significance is the growth rate of that revenue.
SSYS has shown 55% growth in revenue while DDD has shown just 27%. Let's focus on this point a bit further. In the image below I have included a time series of revenue for both firms in one chart.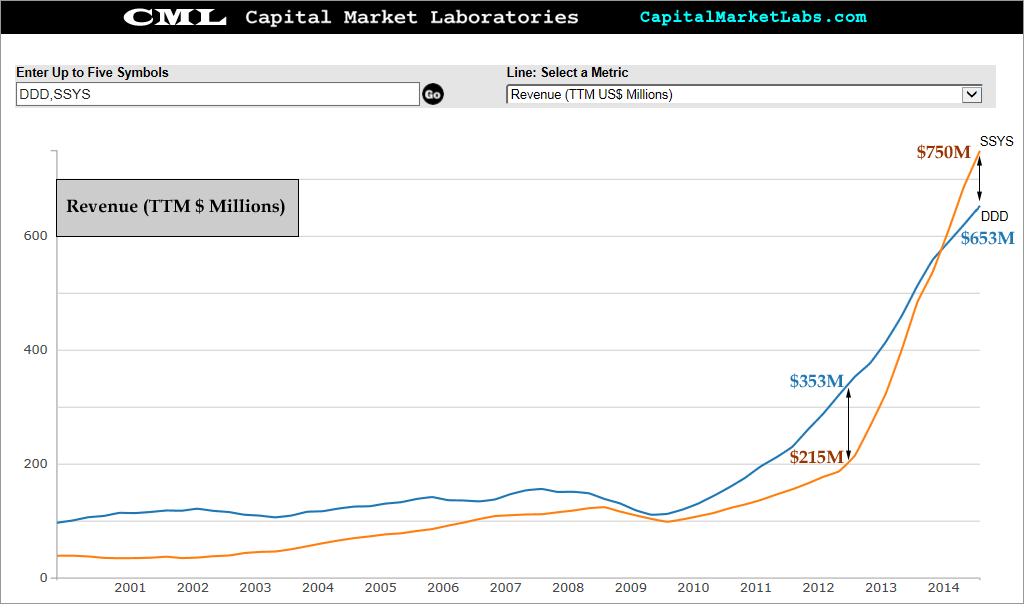 Note that as of year-end 2012, DDD had revenue of $353 million while SSYS generated $215M. Since that time through 12-31-2014, SSYS has seen revenue grow 250% while DDD has seen revenue grow just 85%. With respect to revenue, SSYS has proven to be able to grow it faster and larger than DDD. It is important to note that SSYS has been on an acquisition binge, so a chunk of the revenue growth isn't necessarily organic and the firm has stopped reporting revenue broken out by company for some of its largest acquisitions. DDD has been acquisitive as well and has similar issues surrounding organic vs non-organic growth.
Of course, revenue is the top line, but a firm's valuation is driven (eventually) by the bottom line (aka earnings). In the nine-dimensional chart above we can see that DDD actually generated a profit of $12 million in the last year, while SSYS has cascaded to losses of nearly $120 million. That leaves DDD with a positive net income margin % and SSYS with a rather ugly negative earnings margin %.
Let's examine the net income ($ millions) over time for both companies in the image below.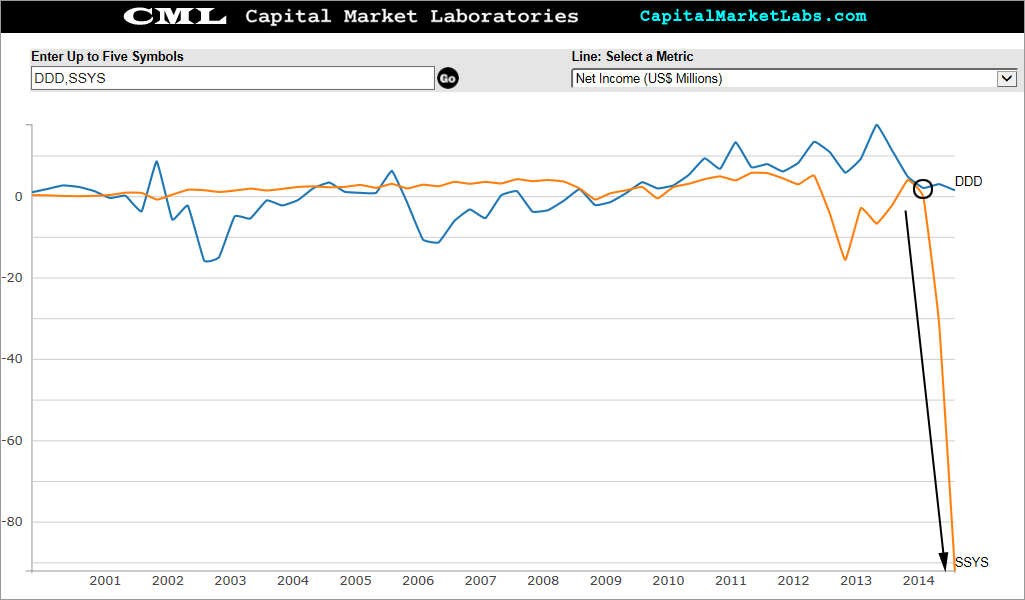 We can see both firms were bouncing around breakeven until the quarter ending 12-31-2014, when SSYS saw a massive drop in net income. Just as acquisitions have boosted revenue, so have acquisitions affected the bottom line.
All of these acquisitions muddy the water to the point of almost total opaqueness. Believe it nor not, "adjusted EPS" is growing rapidly for SSYS or in English, the firm is turning a profit once acquisition costs are filtered out.
As of right now, if you believe in the 3D printing story (and there's
a lot
to believe in), we're just going to have to look at adjusted EPS and sort of wash away the steep losses that come into GAAP reporting. That's a slippery slope, but if you're in these stocks, that's the slope you're riding.
Summary
There is no definite winner yet between SSYS and DDD, and there very well may never be one. It's possible both succeed in different parts of the market (commercial vs retail). It's also possible that one or both get acquired. For now, if we're looking at just the top line, SSYS appears to winning the tale of the tape when compared to DDD, but in truth, neither stock is performing well, and neither company is yet to show consistent organic profitability. The great frustration with these companies for shareholders is the wide divide between promise and execution.